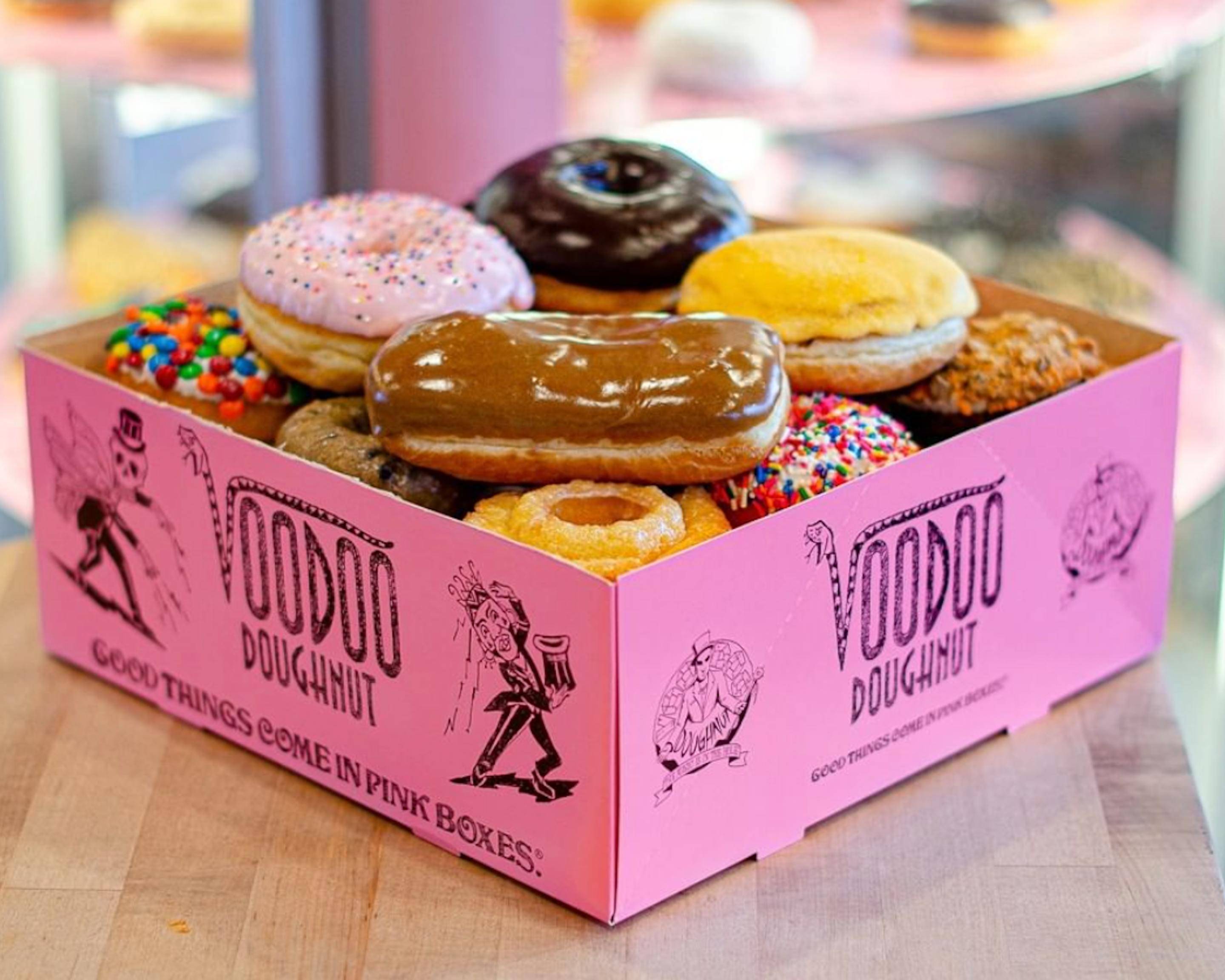 For the love of doughnuts
OK, so yes I'm from California and, like any sane person, I love a good donut. Having experienced the donut pinnacle that is San Francisco, I can honestly say I was a little bit stuck up about my donut savvy when I first came to Portland. But, that's ancient history. I know better now and have redeemed myself for my arrogance by becoming the greatest Portland donut devotee in town! Well, maybe top 20, anyway. But, now that I live in the donut mecca of the universe, my donut addiction has reached a feverish level of crazy. Is donut addiction even a real thing? Because I definitely have that.
So, where's a donut junkie go to get their fix? The famous, iconic Voodoo Doughnuts? Or maybe Blue Star? Or Pips? How about Staccato Gelato? There are so many to try! In honor of National Donut Day on June 2, 2017, here are my top picks for best darn donuts in all of Portland (in no particular order).
Top 5 Picks
Let's start with the most famous doughnut shop in Portland, Voodoo Doughnuts (I'll use the traditional spelling, doughnut, in honor of Voodoo's perseverance in using it). Incredibly colorful in every aspect, Voodoo creates an otherworldly, sugar-coated experience with their crazy concoctions and flamboyant interior design. My favorite will always be the iconic Miami Vice, pictured above; a vanilla and blue raspberry delight. Sadly, Voodoo doesn't offer the Miami Vice anymore, but it is survived by the equally delicious Grape Ape.
Because of their popularity, some locals consider Voodoo to be too mainstream and touristy. I say, "who cares"? I'm all about the doughnut. So, is Voodoo simply a tourist trap? Or, do they have the doughnut chops to compete with the artisans of Portland? Yes, they do! Voodoo is, of course, a top contender. And rightfully so; Voodoo is a doughnut pioneer, always reinventing their incredible, award-winning scrumptiousness. There's no doubt there. But for those new to Portland, Voodoo is like a gateway drug that leads you deeper into the rabbit, er doughnut, hole of glazed euphoria.
Not to be biased, but I have to admit, Blue Star is probably my favorite… if I were forced at gunpoint to pick only one. It's a casual scene with no lines going around the block, which is nice for locals. Blue Star's creations are sophisticated, perhaps even understated, but extraordinarily delicious. Artisan creations such as the Blueberry Bourbon Basil and the Cointreau Creme Brulee, one of my absolute favorites, have secured Blue Star's status as one of the best donut crafters in Portland and Southern California.
Pip's is unique in that their amazing, miniature artisan doughnuts are made-to-order. Pip's, as in pipsqueaks, offers their freshly made creations from both a storefront and a food truck. Either way, these mini doughnuts are in a class of their own and definitely rank up there with the best doughnut crafters around. Their honey-drenched and sugar-coated flavors are like nothing else in existence. Pip's also boasts some of the best chai blends in town.
Helen Bernhard Bakery is unsuspecting at first. With its ancient decor, one may reminisce about their Grandma's home cooking while waiting for their order. But that's exactly where Helen Bernhard Bakery rules supreme. Their old-fashioned glazed donuts are, by far, the most delicious in the land. Big and cakey, glazed to perfection with a soft interior… I do love the old-fashioned glazed donut.
Coco is a sophisticated donut shop famous for their handcrafted, classic donuts made using their traditional family recipe. Selections like Apple Fritters and Maple Glazed abound, as well as unique creations such as their Lavender Glazed and Chocolate Buttermilk. And, like their donuts, Coco's eco-sourced coffee is a cut above the rest.
More Must-try Artisans
Donuts are just one of many bakery offerings at Fleur de Lis, and they're all exceptional in quality and taste. The Potato Donut, pictured above, is a must-experience treat. Cinnamon dusted, dense cake makes for one satisfying treat. And they give you the donut hole, too. It's awesome!
Although Staccato Gelato is primarily a gelato shop, and an exceptional one at that, they have a donut maker come in on Saturdays and Sundays. The donuts are freshly made and above-average in quality, but it's their Prince of Darkness donut that really stands out. A local favorite, the Prince is comprised of a fudge brownie batter glazed in crunchy chocolate, and covered in chocolate sprinkles. A chocolate-lovers ultimate desire.
Annie's Donut Shop
An inconspicuous exterior beguiles Annie's incredible culinary delights. There's nothing pretentious about Annie's, and those in-the-know enjoy this hidden gem without outrageous lines or early sold-out signs. Just good, old-school donuts made from scratch. Annie's is a great place for a gather with your folks and grandfolks; they're guaranteed to appreciate the uncomplicated atmosphere.
Moody's Donuts started out as a food truck, bringing their freshly-fried donut deliciousness to throngs of Portland foodies. When they couldn't keep up with demand, Moody's moved into Rocking Frog Cafe, where they continue crafting their fried-to-order donuts. The selection is limited, but the caliber is outstanding; it's certainly quality over quantity with Moody's. Also, their donuts are notably larger than the average.
Grüner's Middle-Europe inspired selections are works of art, plain and simple. This is donut artistry at its finest. Grüner is a sophisticated, upscale establishment, so expect to pay a bit more for their unique fare. But, it's worth every penny. Enjoy a fabulous dinner within their intimate abode, properly topped off by any of Grüner's exquisite donut creations.