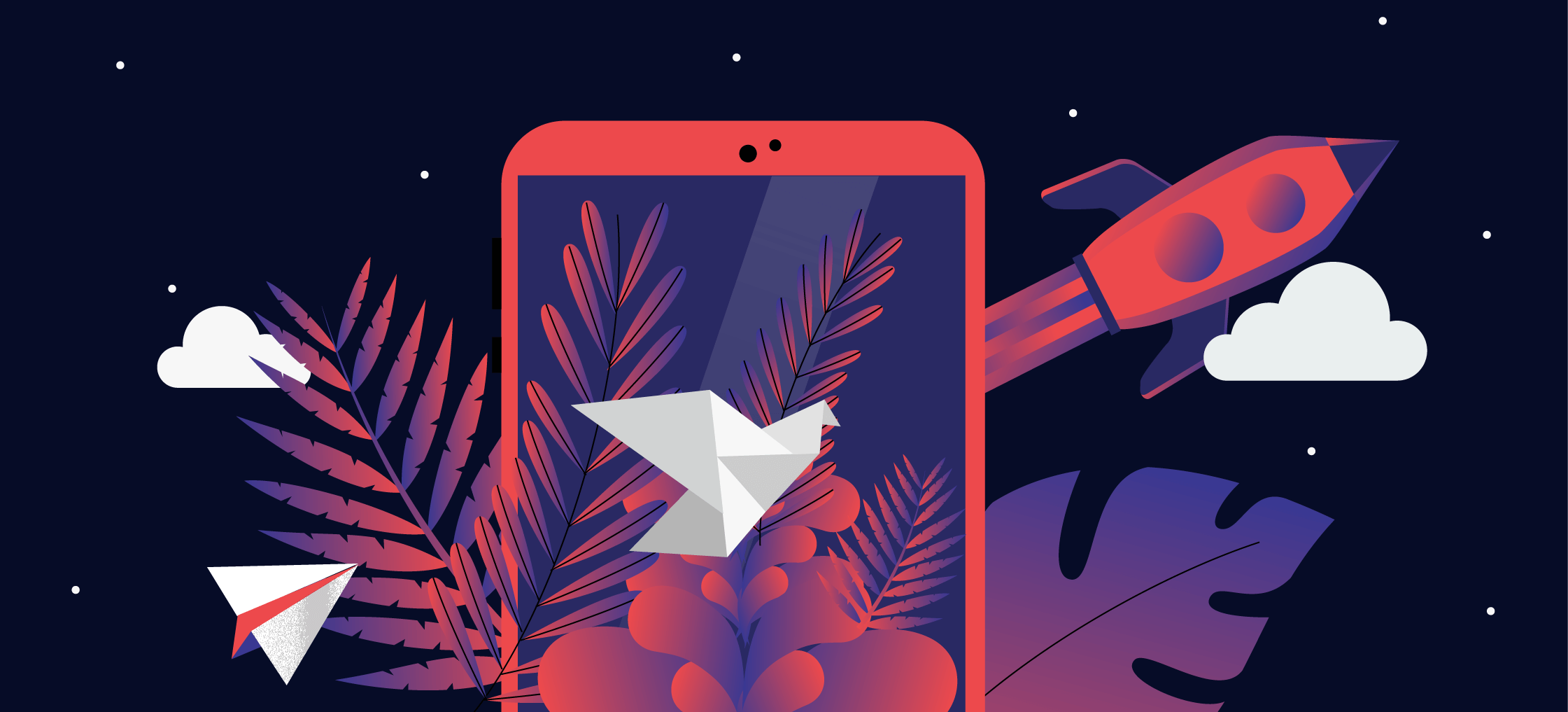 Product visioning through storytelling
A Product Vision tells the story and paints the picture of an ideal product experience which solves for the sweet spot between user and business impact. This article provides a process and storytelling framework to bring a vision to life.
One of the most impactful contributions a UX leader can make is crafting a vision that when executed will transform the business and customer's experience. Product visioning is a form of product strategy. Visioning storytelling goes beyond a Vision statement to show how the product or service can fit into the user's life.
A well-formed vision story has several benefits:
Drives impact by finding the sweet spot between user and business needs. Often user and business needs are not in conflict, and the most effective visions find the transformative insights that sit at the intersection.
Aligns teams around a common, larger purpose and inspires them to work together. Without an aligned vision, teams often only make incremental progress.
Allows teams the space to step away from the day-to-day and re-imagine, encouraging creativity and driving motivation.
Guides product strategy resulting in a roadmap with a path to achieve the vision.
Gains stakeholder/leadership buy-in to prioritize initiatives to drive towards the vision
Crafting a vision requires not only telling a compelling story, but also aligning stakeholders and inspiring others to work towards that vision.
Product Visioning Process
This is the process I have used to guide teams to create product visions that led to transformative change in the business and use experience:
A diagram showing a circular process with 5 steps. The steps are Plan, Discover, Ideate, Craft the Story, and Implement. The diagram also shows that you can continue to evolve the Vision Story by repeating the process.
Plan
Crafting a vision is a project in and of itself and therefore requires planning and dedicated bandwidth. In the planning stage, you will want to:
Create a joint goal with the cross-functional team that will need to execute on the vision (i.e. product management, engineering and UX). To gain buy-in on the vision, people need to be invested and involved from the beginning.
Identify the scope and timeframe of the vision — A vision can be done at many levels to serve a company, product, service or feature area. A vision can also be for varying time horizons, 6 months to years in the future.
Identify who needs to be involved in the vision effort — You should involve anyone you have to sell the output to, i.e. stakeholders, leadership, cross-functional partners. A vision should rarely, if ever, be created by an isolated group.
Identify a small, dedicated working group to drive and organize the visioning work — While many more people may be involved in the workshop in some capacity, to be effective a core group needs to plan, organize and lead the visioning process.
Define the activities you want to conduct in the visioning process (i.e. stakeholder interviews, generative research, market analysis, ideation workshops, concept development).
Create a timeline with key milestones, such as leadership readouts and any deadlines like resource/budget allocation timing.
Discover
After you create the initial vision story you will want to evolve it over time, as you learn new information, for example: the market shifts, your customers needs change or technology advances.
An impactful vision should be informed by user and business needs, as well as stakeholder and leadership expectations. While a vision should ultimately be driven by user and business insights, stakeholder/leadership expectations are important to know up front in the event you discover new insights that diverge from leadership knowledge. It's much easier to navigate when you know there is a disconnect.
Here are set of activities you may want to conduct in the discovery step:
Conduct stakeholder/leadership interviews to understand the opportunities they see for the business and users
Gather existing user knowledge, such as user research and user personas/profiles
Investigate business data and analysis to uncover gaps and opportunities
Conduct market/competitive analysis/benchmarking and literature review of industry reports, articles, papers, etc. to identify gaps and opportunities
Run generative research if you are working with limited user and business knowledge
You may have quite a bit of data and information to sort through, which will require deep analysis and synthesis of the inputs and research. Through that analysis, trends and key insights often emerge that become the basis of the Vision. It is valuable to organize these inputs into 3–5 key themes or priorities that can be easily understood by everyone involved. These are not yet solutions — they are the primary opportunities or problems to be solved. This is a great point in the process to share out the findings with the broader group of stakeholders, leaders and team members involved.
Ideate
In the ideation step your goal is to generate as many ideas as possible, informed by the key insights/opportunities/priorities found in Discovery. Creativity and ideation should not be limited. This step is a great opportunity to bring together all cross-functional partners and stakeholders invested in the vision output to brainstorm together in a workshop.
After the workshop, the heavy UX work begins and the story starts to take shape:
Gather all the ideas/sketches generated at the workshops, identify key themes, and prioritize
Create conceptual design mocks to illustrate the ideas
Gather feedback from workshop participants, stakeholders, leadership
Test the conceptual designs with users (iterate as needed)
Craft the Story
Now that you have identified the core user/business problems to solve, brainstormed ideas, and tested concepts with users, you are ready to craft the story. By this point you should have a clear picture of the ideas and concepts that resonated with your users from the user testing.
Stories are a great format for a Vision because, if done well, are inspiring, relatable and can be shared and easily understood by any group. The visual story or stories should use characters (based on your user personas/profiles) and common user journeys to explain how your solution (product or service) fits into the characters lives and how your solution transforms the user experience and business.
An outline or story board is a great first step to explore the narrative. Here is a simple framework you can use to craft your Vision stories:
Introduce the characters in your story who exemplify your target users. Tell as many stories as you need to represent all your primary users.
Highlight the need your character has that your product or service can provide. Explain how the need affects their daily life.
Introduce the solution (product or service) through the everyday life of the character.
Showcase the character using the solution. Highlight features and capabilities that make the experience unique.
Explain how the character is impacted for the better because of the solution.
Show solution use over time. Explain how the character is impacted over a long time horizon of using the solution.
Along with using this framework to develop your story, keep in mind a compelling vision story will …
Reveal a transformation from the current state — A vision story is not just relying the status quo.
Convey the true value of your solution. For example, does your solution bring family together? Serve a practical/necessary purpose in everyday life? Solve a problem? Bring joy?
Clarify the differentiating factors from your product/service and others in the market and the unique insights you have uncovered that will help your business thrive.
Highlight new features, capabilities, technologies of your product or service, which serve as the foundation of a product roadmap.
Implement
With at least one compelling, impactful story you are ready to partner with product management to more concretely define the business impact sizing and develop a roadmap/backlog and execution plan to bring it to life.
As needed, the vision stories can be used to secure funding and resourcing necessary to execute. This is a key reason why stakeholder and leadership interviews up front and checkpoints along the way are so critical. Leaders are far more likely to invest and support the vision when they have been involved and had input.
Tips
Provide transparency throughout the vision process — share all vision docs, decks, research findings, insights broadly and schedule readouts and feedback sessions at key milestones
Evolve the vision over time as user needs, new markets emerge or technology evolves. Keeping a pulse on each of these areas is key to knowing when to evolve the vision.
Be flexible throughout the visioning process, allow for scope changes and curve balls, you can't fully predict how a visioning effort will go because it is all about discovering the unknown!
Source: Medium, UX Collective