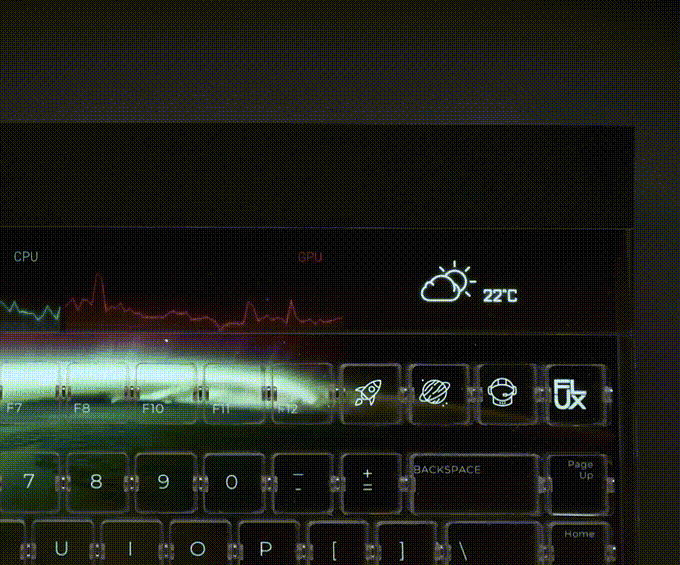 'Reinvented' keyboard could be a game changer
The Flux Keyboard is a crowdfunding smash.
This almost doesn't seem real. Australia-based design and engineering firm Flux has developed the Flux Keyboard, a transparent keyboard that sits atop an HD display. The user can instantly change the labels for the keys, as well as background images for the keyboard.
The company describes the floating keys as "maglev keyswitches."
Here's how they work:
Each key is suspended by two pairs of magnets which act as a spring providing the return force and a satisfying low friction travel in either tactile or linear switch varieties. The position of each key is sensed by hall effect sensors positioned underneath the screen.

Hall effect sensors measure the strength of magnetic fields. They can be incredibly precise and are frequently used in applications where high reliability is a priority. The sensors used in the Flux Keyboard do not act like switches but rather can sense the precise position of each key.
The keyboard itself is not only removable…
…but appears quite easy to clean:
Interchangeable Modules
Up to 4 modules can be attached to the keyboard magnetically to enhance your productivity and creativity. There are 4 types of modules available which can be mixed and rearranged in seconds in any of 256 different combinations to match your desired use case.
Passive Module
By default, the Flux keyboard features passive modules providing a wide window above the keyboard to display information such as weather and system information.
Side Dial Module
Use it as a scroll wheel, volume wheel, or assign it to any variable in supported applications.
The side dial features a machined aluminium wheel, which can switch between a clicked and smooth rotation, and a transparent rocker switch to switch between functions and view dial status.
Triple Dial Module
This module features 3 smooth dials for adjusting multiple variables in supported applications and volume mixing between applications*. The display area below the dials indicate function and status of each variable.
Triple Key Module
Control your music and view album art right at your fingertips, mute and unmute your mic in calls at a single press or feed your very own pet keyboard cat. This module adds 3 extra keys that can be mapped to any shortcut or macro including one oversized key for your most important functions.
The Flux Keyboard has been a smash hit on Kickstarter, with $1-million-plus in pledges at press time with 28 days left to pledge. Buy-in starts at USD $354.
Source: Kickstarter, Core77
Here's are some neat demos: