Lotus Catering
Maui, Hawaii
My Role
Creative Director
UX Designer
Visual Designer
Lotus Catering is a Maui-based event producer specializing in catering and wedding planning. Founded by renowned chef and restaurateur, Carol Longhi, Lotus uses only the finest ingredients and materials – locally sourced, where available – to create their epicurean masterpieces.
For the brand, Lotus Catering wanted something fresh and instantly recognizable that appealed to a wide range of clientele. A warm color scheme was selected to enhance the appeal of food photography, with gold, white, and gray as the primary colors.
The owner initially wanted a color palette with pink as the primary color. Ultimately, we landed on gold as the primary color, but added a muted rose-based pink as an alternate color.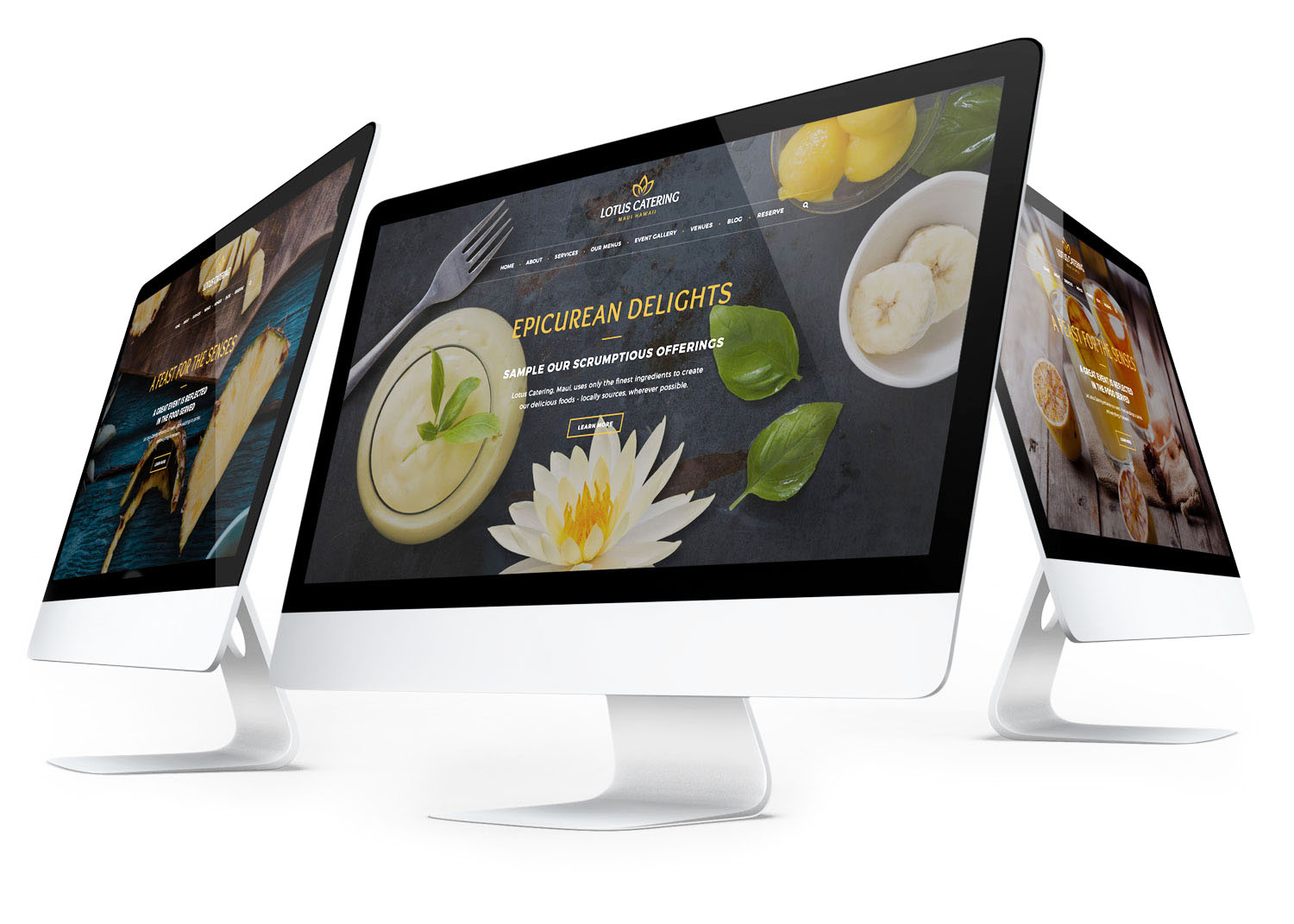 UX Design // eCommerce Website
For the website design, I avoided an overtly coastal feel, as this is overused in Hawaii-based brands. We wanted something different, and opted to focus the visuals on appetizing food selections. The result is a foodie's dream with a high-end appeal.
As catering and wedding-centric services in Maui are extremely competitive, SEO and search engine visibility were primary factors for the website. I provided copywriting and verbiage based on targeted keyword and phrases to boost ranking, as well as formulated content to maximize organic exposure.
Visual Design // Collateral
I designed Lotus' business cards with the brand palette of golden yellow, white, and gray color palette. The standard cards are double-sided with a golden lotus floral motif on the back side, and pertinent contact info on the front side. I also designed a higher-end card with painted gold edges and gold foil designs. The high-end card features a different lotus motif on the back, with pertinent contact info on the front.
Simple Moodboards
I started this project with some simple moodboards, which aided in landing on a vivid, nature-inspired color palette that incorporated the the mellow vibe of Maui.
Services and products provided:
Brand Design
Brand exploration
Color explorations / palette
Typography
Logo design
Brand / style guide
Website
Discovery
Moodboards
Polished designs
Visual & Collateral Design
Business Cards
Photography selection
Photo editing and correction
Marketing
Custom Mailchimp emails
In-depth copywriting